THE BRAND
Developed in 2015, Stockéo® is a brand of the DM2F Group specialized in the transformation of
metals in sheets and slit reels, cutting, stamping, sheet metal, welding,
design and assembly.
Lightweight, robust, stackable on 3 heights, reusable at will, they reduce
transportation costs and facilitate handling.
Built to last, our Stockeo® aluminum pallets are of
exemplary manufacturing. They perfectly meet your expectations, whatever
your logistics circuit.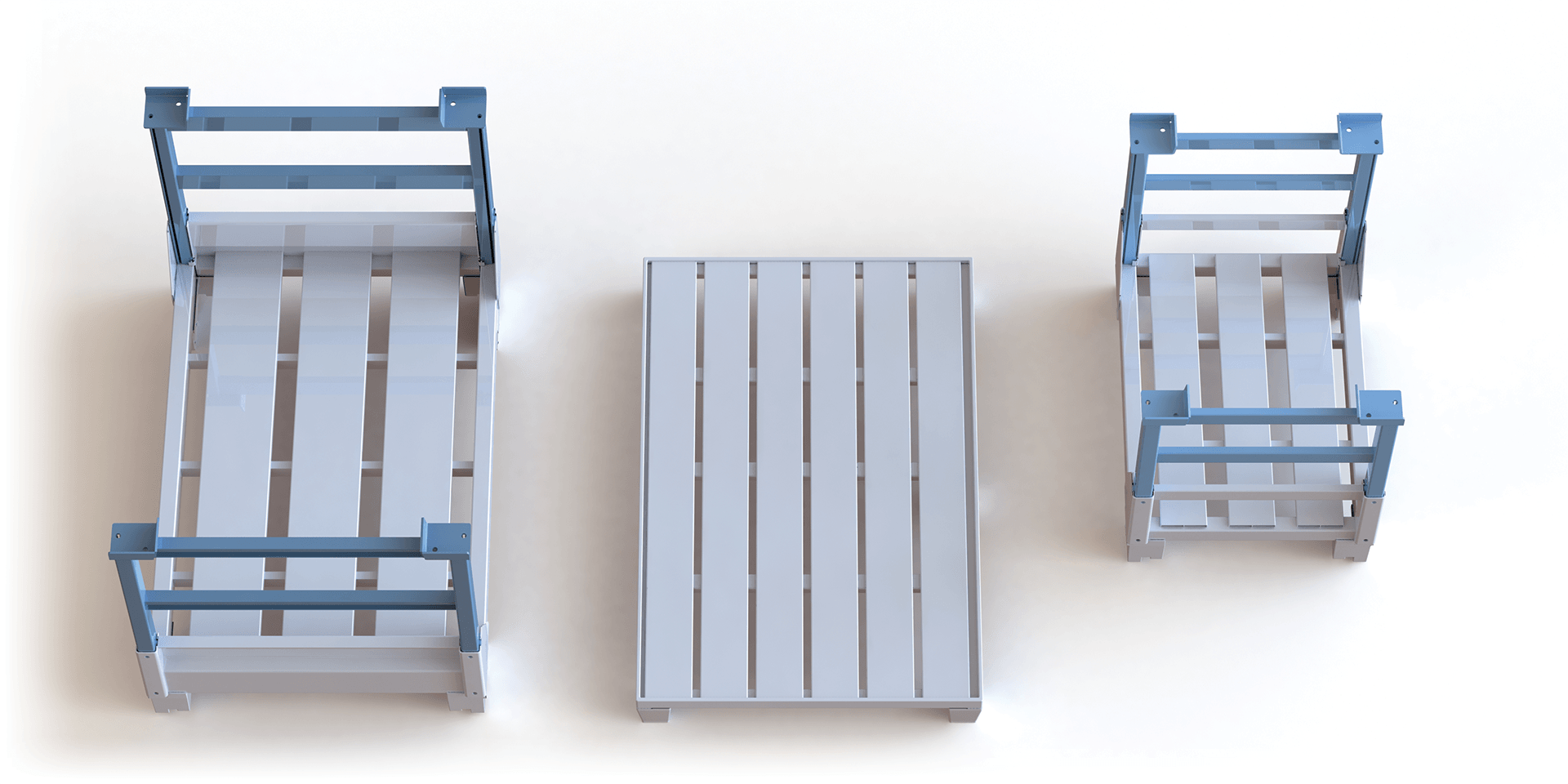 The group DM2F,
it is a dynamic of research and innovation
with the filing of patents and the creation of products
exclusive and efficient, especially for the logistics sector.
 
Standard pallets
High pallets
Other
ranges
RPA001
RPA002
RPA008
RPA010
Dimensions L x W x H (mm)
1218 x786 x840
1218x786x840
1218x786x1130
1218x 786 x1130
 Consult us
Weight (kg)
27
21
24
24
Stackable pallets
Unfolded / FOLDED
3/8
3/8
2/8
2/8
Max load / pallet / level (kg)
450
550
Stackable pallets
DEPLIED / FOLDED by truck
99/264
99/264
66/264
66/264
Frame cross member (mm)
1175
1179
1175
1175
Clevis thickness (mm)
5
4
4
4
Amount with throat
Yes
Yes
Yes
Yes
Number of floorboards
3 (wide)
4
4
4
Types of feet & skates
Short mounted screwed
Label holder
Option
Option
With
With
Tidal option
No
In development
In development
In development
Tarpaulin option
Possible
Possible
Yes (only sides)
Possible
A design, dimensions, material … thought for:
Optimize loads
Secure goods
Limit handling
Withstand heavy loads
Generate less waste
Combine reuse and recyclin
Have a better carbon footprint
Gerber a wooden or plastic pallet *